About Us
History of the Company
Watson's Florist & Flower Delivery was founded in 1927
In 1927 Grandma Irene Watson started selling flowers out of her home with flowers grown in her own garden. Shortly after she started selling flowers Irene purchased 5,000 rose bushes and went door to door selling the roses for $0.25 each. With the profit she made from selling these rose bushes she and her husband, Charles, purchased an 18 acre farm on a road connecting downtown Tempe and downtown Mesa. On this farm Charles and Irene not only grew flowers but grew their family as well. The residents in Mesa knew Irene very well and referred to her as "The Rose Lady."

Watson's Flower shop founder
Irene Watson, "The Rose Lady"



Charles & Irene Watson on their wedding day in 1899
Before opening her own flower shop Irene interned at Brown's flower shop in Utah. She gained valuable skills in design while there and she learned many other things about the floral industry. She also learned about the growers in California and how to order and ship flowers from there.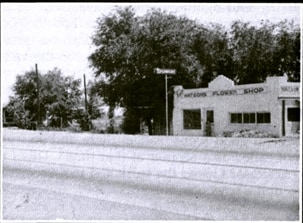 Watson's Flower Shop circa 1940

Ownership Passes to the 2nd Generation
In 1946 ownership of the flower shop passed to one of Charles and Irene's daughters, Eva. Prior to Eva taking over the family business, Eva worked as head surgical nurse at the Southside District Hospital in downtown Mesa. Eva married a wonderful man, James Ernest Johnson Sr. and both were very involved in the family flower business.Eva Watson, Head Surgical Nurse, Southside District Hospital
| | |
| --- | --- |
| Ernie & Eva Johnson On their wedding day in 1939 | Eva Watson, Head Surgical Nurse, Southside District Hospital |
During the years between the end of WWII and 1950 Ernie and Eve had grown the business, establishing 3 branch locations in the East Valley, and franchising locations in Tucson and Flagstaff. Also in the 50's, the flower shop purchased a large neon sign. This sign along with many other neon signs along their stretch of road (which had become the US 60) would become famous in Americana.


The Johnson and Haw's familiesThe history of the Haws and Watson families dates back to the 30's and 40's when Lyman Haws and Ernie Johnson were best friends in high school. Ernie married Eva Watson and, together continued Watson's Florist & Flower Delivery. Lyman developed his floral design talent at Watson's Florist & Flower Delivery. Many years later, in 1964, Lyman joined the Haws family business and built Haws Flowers and Gifts on Mesa Dr in Mesa until he retired in 1988. After Lyman retired, Henry (Lyman's brother) operated Haws Flowers with his wife Edna for many years. Both Henry and Edna retired from the floral industry in 2009 and asked Watson's Florist & Flower Delivery to serve their customers.
Consolidating the BusinessIn 1950 Ernie Johnson passed away and was survived by his wife Eva and their three children. Now with the responsibilities of raising her family and running a business on her own the other locations were closed.
Ownership Passes to the 3rd Generation In 1976, Eva's son David with his wife, Pam, took over management of Watson's Florist & Flower Delivery. With many years experience with farming, David continued the family tradition of growing flowers on the farm originally purchased by his grandparents.

David & Pam Johnson, owners of Watson's Florist & Flower Delivery 1976-2009In 2005, three years of construction of the "Valley Metro" light rail train system was about to start in front of their Mesa store. David and Pam knew that access would be greatly limited during construction of the Metro system. They wanted their customers in the East Valley to be able to reach their flower shop easily so in the Fall of 2005 David and Pam opened a branch location in Gilbert, AZ. The new store is conveniently located on the corner of Val Vista Dr and Guadalupe Rd.

Ownership Passes to the 4th GenerationIn 2009, David and Pam retired from the floral industry. Management of Watson's Florist & Flower Delivery has now passed to two of their sons, Nathan and Jacob Johnson, and both are eager to uphold the family tradition of growing and selling the longest lasting, highest quality flowers at a reasonable price. Their main store is still located on the original acre of land purchased by Great grandma Irene Watson in 1931.Nathan graduated from Arizona State University with a degree in finance while working at the family business. Jacob also graduated from Arizona State University with a degree in management. Both of David's sons grew up being very involved in the family flower business.Why you should choose Watson's Florist & Flower Delivery has a proud history of service to the east valley and the Phoenix Metro area. Great grandma Irene Watson instilled three qualities in the generations of florist that followed her. The three qualities are to sell the highest quality flowers with the best possible service at a reasonable price. Every generation of florist since has honored her memory by upholding this family tradition. So what sets Watson's Florist & Flower Delivery apart from the others? It is the foundation upon which our flower shop is built. Each generation has grown up as a florist; each generation has acquired the skills and knowledge necessary to have over 90 years of satisfied customers. What you can expect from Watson's Florist & Flower Delivery is professional courtesy in customer service and the highest quality, longest lasting flowers every time you order. When you order from Watson's Florist & Flower Delivery you can order with confidence knowing we will give your order the personal attention it takes to make your gift perfect. Regardless of the occasion, the recipient of your floral gift will be delighted. We guarantee it or your money back. That's the way Great grandma Irene Watson did it 90 years ago and that's how we do it today.
| | |
| --- | --- |
| | |
---
Additional Information:

Monday thru Friday: 9am to 5pm Saturday: 9am to 2pm Closed Sundays

Summer hours are Memorial Day to Labor Day
E-mail: info@watsonflowers.com Our shop will always be closed on the following holidays: New Year's Day, Easter, Mother's Day, Memorial Day, Father's Day, Independence Day, Labor Day, Thanksgiving Day and Christmas Day.
You can also find us in the following directories:
Contact Information
If you have any questions or need more information, please call us directly at any of our Valley Locations. We're always here to serve you and make your flower-sending experience a pleasure.
Mesa Store 2525 W Main St Mesa, AZ 85201 480-967-8797 Monday thru Friday: 8am to 5pm Saturday: 9am to 4pm Sunday: Closed

Tempe Store 2425 E Apache Blvd Tempe, AZ 85281 480-967-0161 Monday thru Friday: 8am to 5pm Saturday: 9am to 4pm Sunday: Closed
Gilbert Store 929 N Val Vista Dr Ste107 Gilbert, AZ 85234 480-632-8700 Monday thru Friday: 9am to 5pm (summer hours 9am to 4pm) Saturday: 9am to 4pm (summer hours 9am to 1pm) Sunday: Closed
Local, Nationwide or Worldwide
Our local delivery area includes these Phoenix Metro area cities:
Mesa, Tempe, Gilbert, Chandler, Phoenix, Scottsdale, Sun Lakes, Queen Creek, Apache Junction, and Gold Canyon. We are a member of Teleflora, an association of florists with over thirty thousand members worldwide. Through Teleflora, we can send your flowers nationwide or around the world.
Specialty Services
Fresh flower guarantee ! We carry a full line of the freshest flowers available, from California, New Mexico, Hawaii, Thailand, Holland and South America. The flowers we receive are "guaranteed fresh." We subscribe to and practice the "Ten Steps to Extended Flower Life" to guarantee the freshest and longest lasting flowers in the floral industry. We carry a large inventory of: Fresh Flowers Pottery, Tropical Glassware, Blooming Plants, Silk and Dried flowers Green Plants, Extensive gift line of baskets with Mylar and Latex balloons.
Our design staff has over 180 years combined design experience. They are unmatched in their artistic and creative ability. Our professional team of designers custom design distinctive floral arrangements in a variety of styles. Including: Traditional Designs, European Classica,l Ikebana, Modern, Tropical, High Style, and Exotic.
We specialize in the following services: Birthday & Anniversary designs Silk arrangements Get Well & Hospital designs Dried floral arrangements New baby designs, gifts & pottery Holiday / Party decorations Funeral designs & Memorial tributes Business gifts European / dish gardens Weddings Gourmet and fruit baskets Corsages Gift baskets Greeting card
Facilities we deliver to
If the hospital or mortuary you'd like to send to isn't on this list, give us a call anyway, we just might deliver there.

Hospitals in our local delivery area:
Arizona Regional Medical Center
Arizona Spine & Joint Hospital
Banner Desert Medical Center
Banner Baywood Medical Center
Banner Baywood Heart Hospital
Banner Children's Hospital at Banner Desert (Carden's Children's Center)
Banner Gateway Hospital
Banner Good Samaritan Medical Center
Chandler Regional Hospital Gilbert Hospital
Mercy Gilbert Medical Center
Mountain Vista Medical Center
Maricopa Medical Center
Maryvale Hospital Medical Center
Mayo Clinic Hospital Paradise Valley
Hospital Phoenix Baptist Hospital & Medical Center
Phoenix Children's Hospital Phoenix Memorial Hospital
St Joseph's Hospital & Medical Center
St Luke's Medical Center Tempe
St Luke's Hospital Scottsdale Healthcare on: Osborn, Shea, Thompson Peak
Mortuaries & Cemeteries in our local delivery area:
Allen Funeral Home
Bueler Chandler Mortuary
Bunker Garden Chapel on Centennial Way
Bunker Colonial Chapel on University
Dr Falconer Funeral Home
Family Burial Carr Tenney Green Acres on Hayden Rd
Lakeshore Mortuary
Mariposa Gardens
Melcher Chapel of Roses on Stapley
Dr Melcher Mission Chapel on Main
St Meldrum Mortuary
Mesa City Cemetery
Messinger Mortuary
Mountain View Memorial Gardens
Queen of Heaven Mortuary & Cemetery Resthaven
East Mortuary & Cemetery
Sonoran Skies Mortuary
Tempe Mortuary
Valley of the Sun Mortuary Wyman's Funeral Home
Payment Options
We accept the following:

Visa
MasterCard
Discover/NOVUS
Diners Club
American Express
Substitution Policy
Occasionally, substitutions may be necessary to create your bouquet due to the availability of certain flowers in various parts of the country. Care is taken to maintain the style, theme and color scheme of the arrangement, using flowers of equal value. Additionally, the substitution of certain keepsake items may be necessary due to increased demand, especially during major holidays. In single-flower arrangements, such as an all rose bouquet, or orchids, we will make every attempt to match the flower type, but may substitute with another color.
Refund Policy
Returns need to be within 3 days of purchase and must have a receipt.