About Us
History of the Company
Watson's Florist & Flower Delivery was founded in 1927
In 1927 Grandma Irene Watson started selling flowers out of her home with flowers grown in her own garden. Shortly after she started selling flowers Irene purchased 5,000 rose bushes and went door to door selling the roses for $0.25 each. With the profit she made from selling these rose bushes she and her husband, Charles, purchased an 18 acre farm on a road connecting downtown Tempe and downtown Mesa. On this farm Charles and Irene not only grew flowers but grew their family as well. The residents in Mesa knew Irene very well and referred to her as "The Rose Lady."

Watson's Flower shop founder
Irene Watson, "The Rose Lady"



Charles & Irene Watson on their wedding day in 1899
Before opening her own flower shop Irene interned at Brown's flower shop in Utah. She gained valuable skills in design while there and she learned many other things about the floral industry. She also learned about the growers in California and how to order and ship flowers from there.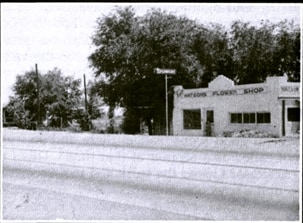 Watson's Flower Shop circa 1940

Ownership Passes to the 2nd Generation
In 1946 ownership of the flower shop passed to one of Charles and Irene's daughters, Eva. Prior to Eva taking over the family business, Eva worked as head surgical nurse at the Southside District Hospital in downtown Mesa. Eva married a wonderful man, James Ernest Johnson Sr. and both were very involved in the family flower business.Eva Watson, Head Surgical Nurse, Southside District Hospital
| | |
| --- | --- |
| Ernie & Eva Johnson On their wedding day in 1939 | Eva Watson, Head Surgical Nurse, Southside District Hospital |
During the years between the end of WWII and 1950 Ernie and Eve had grown the business, establishing 3 branch locations in the East Valley, and franchising locations in Tucson and Flagstaff. Also in the 50's, the flower shop purchased a large neon sign. This sign along with many other neon signs along their stretch of road (which had become the US 60) would become famous in Americana.


The Johnson and Haw's families

The history of the Haws and Watson families dates back to the 30's and 40's when Lyman Haws and Ernie Johnson were best friends in high school. Ernie married Eva Watson and, together continued Watson's Florist & Flower Delivery. Lyman developed his floral design talent at Watson's Florist & Flower Delivery. Many years later, in 1964, Lyman joined the Haws family business and built Haws Flowers and Gifts on Mesa Dr in Mesa until he retired in 1988. After Lyman retired, Henry (Lyman's brother) operated Haws Flowers with his wife Edna for many years. Both Henry and Edna retired from the floral industry in 2009 and asked Watson's Florist & Flower Delivery to serve their customers.

Consolidating the Business In 1950 Ernie Johnson passed away and was survived by his wife Eva and their three children. Now with the responsibilities of raising her family and running a business on her own the other locations were closed.

Ownership Passes to the 3rd Generation In 1976, Eva's son David with his wife, Pam, took over management of Watson's Florist & Flower Delivery. With many years experience with farming, David continued the family tradition of growing flowers on the farm originally purchased by his grandparents.

David & Pam Johnson, owners of Watson's Florist & Flower Delivery 1976-2009 In 2005, three years of construction of the "Valley Metro" light rail train system was about to start in front of their Mesa store. David and Pam knew that access would be greatly limited during construction of the Metro system. They wanted their customers in the East Valley to be able to reach their flower shop easily so in the Fall of 2005 David and Pam opened a branch location in Gilbert, AZ. The new store is conveniently located on the corner of Val Vista Dr and Guadalupe Rd.

Ownership Passes to the 4th Generation In 2009, David and Pam retired from the floral industry. Management of Watson's Flowers has now passed to their son Nathan and his wife Valerie. They enjoy working together and growing the flower shops. They carry on the family tradition of excellence while learning and innovating for the future.
Third Location in east Mesa
In Spring of 2019 Nathan and Valerie opened Watson's Flowers third location in east Mesa at Higley Rd and Main St. We have been so happy to provide the best flowers and service while continuing to grow.
Continued Growth into the future
We are excited to announce that in the summer of 2023 that the Watson Flowers location in Tempe will be moving to the SW corner of Southern and McClintock, 1719 E Southern AVe #101, Tempe, AZ 85282 next to the new Aldi's grocery store.
Even more exciting, Bobbie's Flowers, long time friends of Watson's will be merging and moving to this new location in Tempe. Jim Davis, generational owner of Bobbie's, is retiring from the floral industry. His team will be joining the Watson Flowers team starting in early June. This is a great collaboration of the two oldest and best flower shops in Tempe!