chandler arizona Flower Delivery
LOCAL SAME DAY & EXPRESS DELIVERY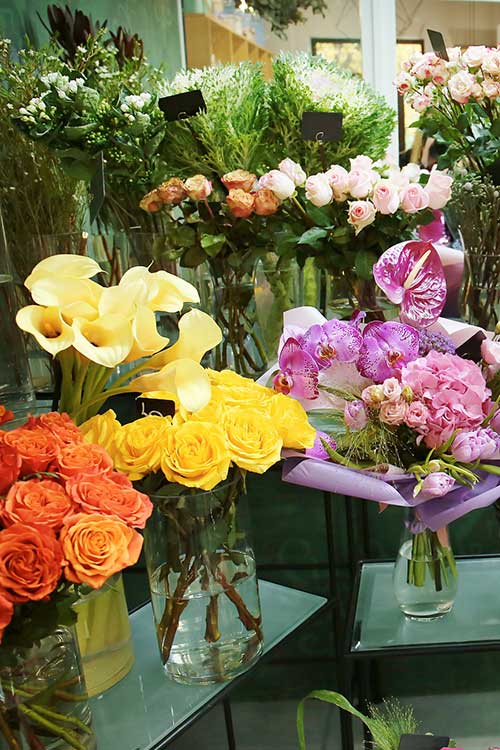 Watson's Flowers is a flower shop in Chandler, Arizona that specializes in same-day flower delivery and floral arrangements. We have been family owned since 1927 and we have three convenient locations in the greater Phoenix area. Our flower shop offers farm-fresh flowers, green plants, flowering plants and succulent plants. We specialize in occasion themed gifts such as anniversary flowers, birthday flowers, get well flowers, seasonal floral bouquets and wedding flowers. We also offer sympathy flowers, casket flowers and standing sprays for your special occasions.
We operate three flower shops. Our Tempe floral design center is located at 2425 E Apache Blvd., Tempe, AZ 85288. The main phone number for that location is (480) 967-8797. We operate a design center in Gilbert that is located at 929 N Val Vista Dr, Suite 107, Gilbert, AZ 85234. The primary phone number for the Gilbert flower shop is (480) 632-8700. Our Mesa area flower shop is located at 4930 E Main St, Suite 15, Mesa, AZ 85205. The main phone number into the Mesa design center is (480) 830-1333.
All three of these floral design centers offer in-store shopping. Each flower shop is equipped with a beautiful walk-in cooler. All coolers are stocked daily with farm-fresh flower arrangements, themed for many different occasions. We offer nationwide same day flower delivery. Choose from a wide selection of floral arrangements, plants and occasionthemed gifts. At Watson's Flowers, we believe that flowers should be fresh and beautiful, and that flower delivery should be convenient. We've been in business since 1927, and we're proud to offer our customers the same-day flower delivery services they've come to know and love.
When you shop with us, you can expect:
- Farm-fresh flowers, green plants, flowering plants, and succulent plants
- Same-day nationwide delivery of occasion-themed gifts
- We operate 3 flower shops in Chandler—so you can get your flowers from the same place you buy them!
We have a wide selection of floral bouquets for all occasions and seasons—from wedding flowers to sympathy flowers, anniversary flowers to get well flowers—and we'll make sure they arrive on time. Let's face it: when you need flowers, you need them right now. With Watson's Flowers, we're here to make sure that happens. We're a family-owned and operated business in business since 1927, and we're proud to offer same-day flower delivery throughout Chandler and Maricopa County.
So whether you're looking for a bouquet of flowers for your anniversary or some beautiful blooms to brighten up your desk at work, we've got you covered. We also offer nationwide same-day delivery, so even if you live far away from Chandler, we can still get your flowers where they need to go and fast. What's more? Our farm-fresh flowers are not only gorgeous, but they smell amazing too! And our green plants are perfect for adding life and color to any space.
And of course, we offer sympathy flowers and casket arrangements as well as standing sprays if you're looking for something more subdued or custom tailored for a specific occasion or event. Watson's flowers is a locally-owned flower shop that has been in business since 1927. We are proud to be a part of the Chandler, Arizona community and we are committed to giving you the best service possible. Our flower shops are open 6 days a week, so you can enjoy farm fresh flowers whenever you need them!
100% Customer Satisfaction Guarantee
Same Day Flower Delivery
Watson's Flowers provides same-day and express flower delivery service to our customers in Maricopa County. We have been delivering flowers to Chandler, AZ for over 90 years. We offer same-day flower delivery for all of your special occasions, whether it's an anniversary or a birthday. We also specialize in event flowers and sympathy flower arrangements, so we can help you celebrate anything from a wedding to a graduation. Our stores are family owned and operated, so you'll always be working with the same people—we don't have to send your order to some faraway factory! And because we're nationwide, we can get your flowers delivered anywhere in the country on time (or even early).
If you need help deciding what type of flowers or plants would be best for your occasion, our knowledgeable staff can help you find just what you need. Our farm-fresh flowers are grown right here in Arizona, and we only use plants that are pesticide-free and ethically harvested. We also offer succulent plants and flowering plants that will brighten up any space.